If you are a fan of any hero versus villain saga then you're bound to want to get your hands on a quality The Boy's cosplay costume. Set in a world where superheroes aren't always the hero and strive to abuse their godlike privileges in exchange for personal gain, The Boys centres around a group of committed vigilantes who attempt to upturn and expose the thriving underhand world of alleged heroism. Procosplay are proud to offer supreme, excellent value reproductions of a selection of costumes from The Boys' franchise, so whether you want to dress-to-impress as the villainous protagonist and leader of The Seven – Homelander, or duplicate the outfit of the blonde bombshell Starlight, we have everything you need to keep you immersed in this mash-up world of good versus evil.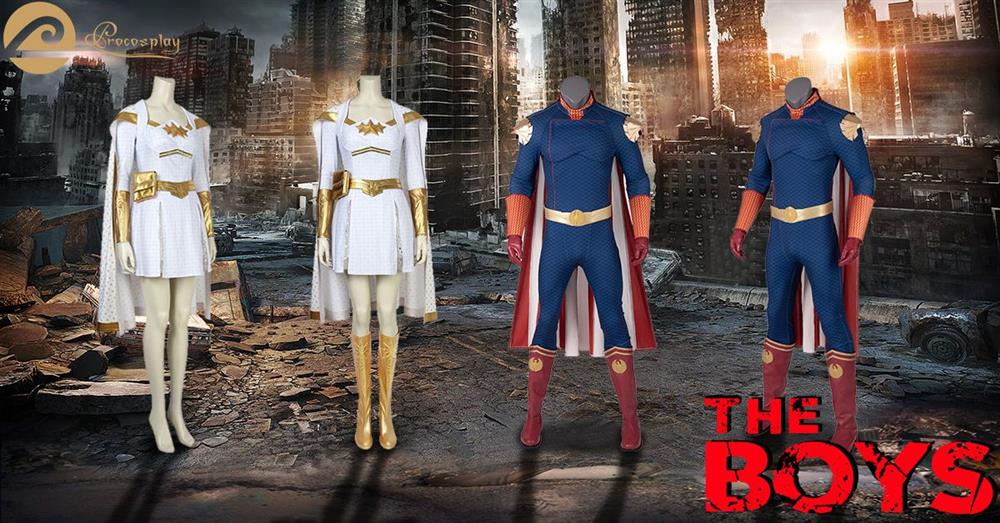 Sometimes it's fun to be the bad guy and our The Boys Homelander Cosplay Costume is so realistic it will have your friends doing a double-take. Procosplay are renowned for offering exceptional quality replica items, as well as providing impeccable service and variety of choice, and we are thrilled to present this imitation get-up for this infamous supervillain. The whole bundle will provide you with all you need to be The Homelander so you can get kitted-out on receipt of your one-off purchase. This package includes the full length and full coverage spandex jumpsuit complete with sculpted pecs, elbow padding and quality stitched seams. This is topped with the distinctive and detachable red white and blue three-quarter length cloak. Accessories are always a must and here you will receive a pair of glossy and stretchable red pleather gloves, along with two monogrammed arm guards, shoulder decorations and an embossed metallic belt. The full-length gold and red boots are an optional extra but they truly enhance the overall look of the costume. This set-up is predominately made from a quality spandex, with the embellishments on the belt and boots being crafted from silica gel and the ornamental shoulders from an EVA material. These trimmings have been created using hi-tech mould technology, which provides a realistic and true-to-life three-dimensional effect.
If you're a super fan of the superhero franchise The Boys' then this incredible Starlight cosplay costume is sure to be a super find. In a world where heroes are treated as celebrities and influencers, along comes the naïve and wide-eyed 'girl next door' Annie January, more commonly known as Starlight, who is tossed into a realm of malevolence, mystery and malice. This sensational and heavily detailed costume includes all you need in order to replicate your favourite female character Starlight – but more than that – the quality and service from Procosplay is exceptional too. The costume bundle includes the white and very feminine mini dress, with full length sleeves and metallic arm guards. The level of detail in the dress is exquisite and it is dappled with subtle grey geometric patterning. This is overlaid with a three-quarter length white cloak featuring dynamic reflective trimming and a gold linear design. Nestled underneath the dress is a star-spangled mesh petticoat with elasticated waist and the accessories include the distinctive golden leather hairband and embossed belt with waist bag. The full-length golden star embellished heeled boots are an optional addition. Made from a quality 40D Terylene material, the Tri-Star emblem that has been used across this costume is crafted from a resin, using mould technology which provides an intricate three-dimensional appearance.