As the top provider of Cosplay Costumes we wanted to get an insight from our customers on how they got started on their incredible journey of self discovery and fantasy role-playing to better understand what drives them and how they feel when they slip on these super suits and escape into a world of wonder and excitement. We asked that they provide us with stories on how this past-time became a passion and how ProCosplay changed not only their lives but those lives around them.
@Ashayla Ramsay
The Disney movie Frozen came to me in a time that was one of the darkest of my life. I suffered from PTSD, high anxiety, and panic attacks that made me retreat into myself as much as I could. When the movie came out I cried the first time I heard the song "Let It Go." I felt that I finally had found a kindred spirit. Here was a woman so trapped in her own mind that she was unable to see the beauty of the world or herself. She lived in constant fear and unhappiness, someone just like me. Singing this song, along with Elsa, was a release of the tension inside and gave me the strength and confidence to turn my life around. I mended a fractured relationship I had with my sister. Together we spread the love and joy we feel for these characters by dressing up as them and visiting children's hospitals. This is a wonderful experience for both us and the children we visit and gives me an incredible sense of purpose.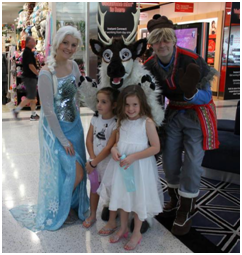 @Susan A. Hubbard
Cosplay has been more than just a hobby for me. It has been a lifeline, a way for a socially awkward, anxious young girl to be able to express herself with like minded people who share a similar love for dressing up in colorful costumes. I didn't have many friends growing up and when I first started this venture I was nervous to say the least. I gerry-rigged a Sailor Moon outfit to wear to an Anime Expo that was only half complete. Although nervous at first, I was thrilled to have people coming up to me, wanting pictures and starting conversation. It took the stress of me having to initiate the interaction and really opened me up to the entire experience. I have made lots of friends from these events that I continue to attend this very day!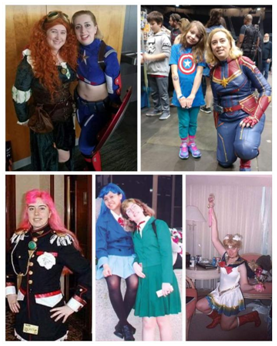 @Terrell J Maxwell
It was after a comic convention in 2018 where I discovered my passion for bringing characters to life and though I loved the attention and excitement of the conventions, it was the joy and smiles on the children's faces that brought me the most joy. I dress as multiple characters and put my own spin on them while staying true to their essence. Over the years I have attended many events, been featured on SYFY Wire's Fan Creator Series and judged cosplay competitions. The best part of cosplay is being able to let your imagination run wild with like minded people. During that moment, we all get to step outside the stressors in life and realize, we don't have to be all work and no play!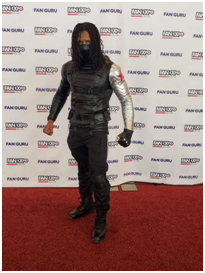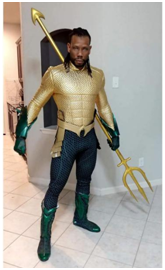 @Dio David Wilson Jr.
The story of my first cosplay experience is less about how it changed my life and more about how it changed my nephew's. Knowing that Master Chief is his favorite character, I ordered the costume off of Amazon and showed up to his house. He was elated to see me donning the costume and was as happy as can be. He asked me questions about what my next mission was and where I put my guns. Upon tucking him into bed that evening my nephew told me of a deep fear he had that a monster lived in his closet. I told him "that monster knows Chief is your friend now and he'll never bother you again I promise." He was never scared of that monster again.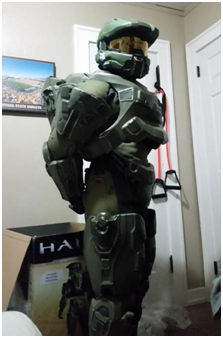 @ri.care
I remember the first time I had ever watched Game of Thrones. I was sitting with my roommates drinking wine and marveling over the quality of the production, the stunning settings, and amazingly engaging complex characters featured on the show. Viewings would become a weekly habit for my roommates and me and it is something we would look forward to for each season's short run. We each had our favorite character of course. Cersei's wicked demeanor was a guilty pleasure hard not to enjoy while Jon Snow's rugged good looks and innocent personality made him a fan favorite. Above all, though the one who stood out the most and the one I felt a real connection to was Daenerys. She went from being a somewhat week and abused character to being one of the most powerful. I adore her character arc and feel the same way when I dress like her in cosplay. Doing so makes me feel strong and confident just like my favorite Mother of Dragons.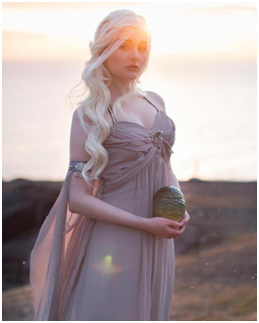 @minakess
As my favorite Avenger Black Widow really stands out from her male counterparts. She has no fancy tech, increased strength, or super powers to speak of she solely relies on her intelligence and honed skills which is why I enjoy dressing up as her so much. Black Widow would very much be considered the underdog of the group yet she always carries herself with confidence and poise. I feel the same way when I slip on that tailor-made black jump suit. I wear it to conventions and cosplay events regularly and love getting my picture was taken and shots with my fellow Avengers!!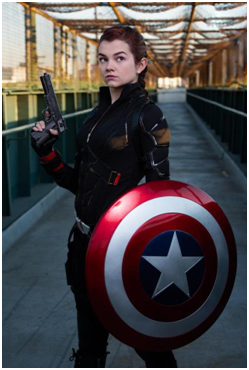 @faerie_blossom
When I was a little girl and my friends were playing with Barbie's and worshiping the heroines we watched on our favorite Saturday morning cartoons like She-Ra and Rainbow Bright I found myself way more interested in the villains of these stories. They were wicked and wonderful! There's something about a strong female character who rebels against the rules and causes chaos that I really respond to. Hela is the epitome of these characteristics. She's strong and powerful while having a graceful finesse about her. I often do photo shoots with my friends dressed like this fierce and ferocious figure among other characters.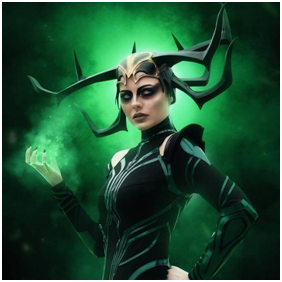 @dolish_fox
I get you Anna I really do.... You are the younger sister of an older more powerful sibling. You're not "special" or have anything that really makes you unique like Elsa but you are wonderful in all your own ways!! You are strong and confident and give love and support to those around you. This is why I love portraying you so much! The compassion you have for others furthers the compassion and love I have for my family. I find myself a nicer and more caring person when I put my hair in duel braids and slip on that floral dress. I wear it to Disney Conventions with my older sister who just so happens to dress as Elsa...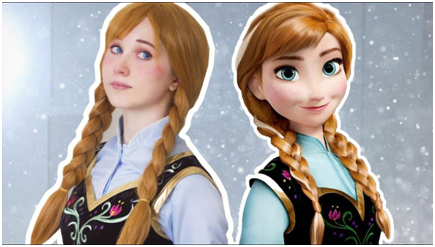 @thelematherion
I first cosplayed as Raven was last year. It was a truly magical experience. I loved walking around taking pictures with people and seeing everyone dressed up in the fantastical costumes. It makes me feel like I am part of a community when I always struggled with that. Growing up I had very few friends, I mostly kept to myself. Now I have friends that I often communicate with and we meet up when we go to conventions. I feel love and joy in my life that I have never experienced before and I'm not sure what I would have done if I hadn't let myself experience new things and try something out of my comfort zone!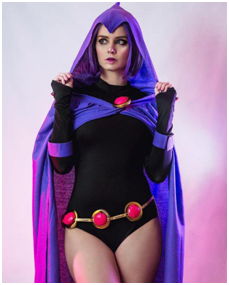 @xautumnpaigex (ins)
My friend and I have been going to Cosplay Conventions for years now. We love exploring new characters and getting the chance to step in their shows for a period of time. Generally we try to plan some sort of couples costume, but last year at San Diego Comic Con we broke the mold by going as an unlikely pair. I loved dressing as Deadpool. The suit is an incredible custom handmade piece that looks just like the one on film. Who wouldn't want the chance to wise crack at every chance you can get?? My friend looked absolutely amazing as Sailor Moon as well. Cosplay gives us the opportunity to escape our regular daily routine and jump into the amazing world of these characters!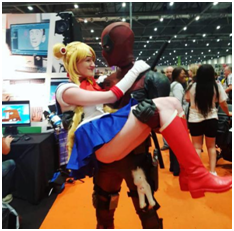 When I was younger I was determined to protect my family and I still do, but I am just an ordinary man don't have superpower. Sometimes I felt there's little I can do, then I knew this guy, Oliver Queen. That's why I choose to cosplay as the one and only Green Arrow. He's just a regular man who devotes everything to save his city, protect his family, he absolutely didn't fail his city. Especially that he has been beaten and broken more times than I can count but always gets back on his feet! He doesn't have any enhancements or super powers, just a sick set of skills that makes him an amazing marksman. I love the fact he can go toe to toe with much more powerful super villains but always comes out on top. He is a true inspiration to me.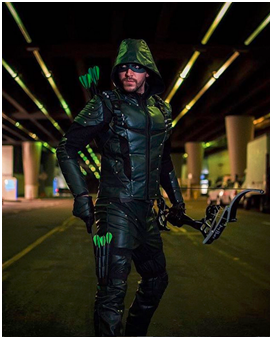 @alli_cat22 (ins)
Growing up with my sisters, my parents always expected me to play with Barbie's and other dolls like this. My sisters absolutely loved them but I was always drawn to things like G.I Joe and He-Man, though I especially loved Star Wars. I never really got to play with the toys I liked and Star Wars was mostly geared to the male side of things. Even Princess Leia was objectified as a scantily clad sex symbol to Jabba the Hutt. Rey changed all that in the recent Star Wars trilogy. Sure the films vary in the degree of quality but Rey really stands out as strong independent character that doesn't suffer from the over sexualization that plagues characters like Wonder Woman or She-Ra. I wear the costume every chance I can get and at times even but it on around the house!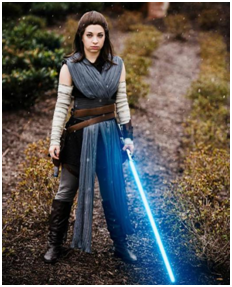 @thealchemicfox
I always loved Disney and it's colorful cast of characters when I was growing up! You had the beautiful Princesses like Belle, Cinderella, and Snow White but also the sinister ones like the Evil Queen, Maleficent, and Ursula. The character's, though iconic, had become a little too familiar over the years.  When someone sees you dressed as Cruella de Vil they automatically recognize the character and her MO. So when Disney released The Descendants, it was a chance to explore new characters, Mal, but in familiar settings. I love when people come up to me at conventions and ask who I am dressed as. I get the opportunity to give a back story and explain the character in detail. People love learning about new ones just as I had!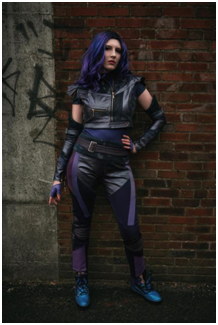 After reading these wonderful cosplay stories, have you been fascinated? Click https://www.procosplay.com to find more wonderful cosplay costumes! We have everything you want, not just the costumes on display, but custom costumes as well. Don't hesitate anymore!