BlazBlue is an all time favorite game for most of the action-loving people out there. Cosplay has now pinned up an attractive range of BlazBlue products, ranging from cleverly stitched and sewn costumes to swords and fake bats. The costumes come in all sizes, and most have been made from leather to give them as realistic a look as possible. Furthermore, the color selection of all the products is amazing. Ranging from a bright red to an elegant black and a sexy blue, we have ensured that the products live up to their prizes, and perhaps to a lot more than that.
Model Number:PRO-066[br] Material:matt leather[br] Gender:female[br] Color:blue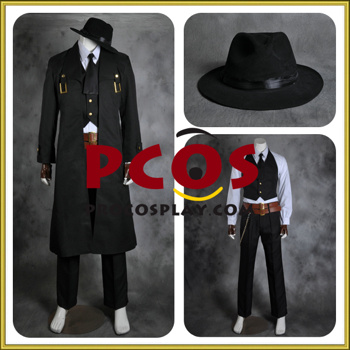 The BlazBlue Hazama Yuki Terumi Cosplay costume is so good that for people like me who are related to the arts and drama field feel it to be a blessing for them. Really! It is amazing to find out this perfect 9 set Cosplay costume made out from the finest leather and cotton. It also has such a trendy look which appeals all the people. My experience buying and using the perfect BlazBlue Hazama Yuki Terumi Cosplay costume is very good and I will love to buy it again for my use.